This week One Place celebrated 23 years of service to Onslow County. Twenty-three years of positively impacting children and families and encouraging a more resilient community. Twenty-three years of working to end child abuse. Twenty-three years of connecting children and families with essential resources. Twenty-three years of supporting children's social-emotional development and working to increase access to mental health services. Twenty-three years of building a brighter future for Onslow County. And while there's so much more work to be done, the one thing that remains the same is the organization's strongly-held belief that children are no small matter.
During the last two decades, One Place (formerly Onslow County Partnership for Children) has remained committed to improving the lives of children and families in Onslow County. Here's a brief look back at the history of the organization: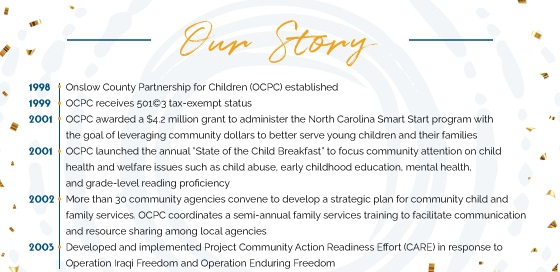 One Place was founded by a small group of concerned citizens in 1998 as the Onslow County Partnership for Children with $100,000 in private grant funding and a vision to ensure a healthy childhood for all children in Onslow County. The organization recognized that in order to build a strong and resilient community, all children need a strong foundation and a healthy start. The first 2,000 days of a child's life are essential for their future success. One Place began to partner with families, community agencies, and professionals in the early care and education community to provide high-quality learning environments that encourage healthy brain development and supportive, nurturing relationships that enable children to thrive.
From humble beginnings as an all-volunteer organization, One Place grew exponentially into a thriving nonprofit that now employs more than 50 staff members and provides distinct programs and services to thousands of children and families annually through programs such as Early Head Start, NC Pre-K, 3 School, Dolly Parton's Imagination Library, and Child Care Resource and Referral.
One Place continues to raise awareness about the importance of the first 2,000 days and child abuse and its impact on Onslow County. The organization educates the community about its role in protecting children and reporting abuse in an effort to create a caring, responsive community with necessary programs and resources available to all families to help them succeed and maximize the chances that all children in Onslow County will become successful adults.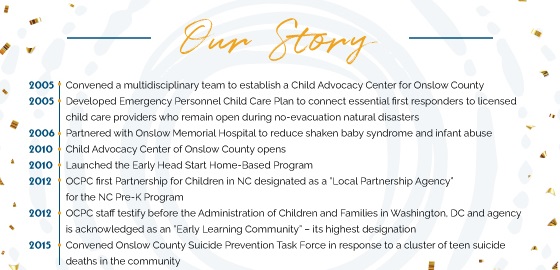 In 2010, the Child Advocacy Center of Onslow County opened within the walls of Onslow County Partnership for Children. Now called One Place Child Advocacy Center, the CAC provides a child-focused approach for responding to allegations of child abuse. The CAC is dedicated to providing comprehensive, coordinated, and compassionate services to victims of child abuse.
A multi-disciplinary team of professionals responds to reports of physical abuse, sexual abuse, serious neglect, or violence. The team investigates alleged abuse, conducts forensic interviews, provides sensitive medical exams, offers family advocacy, and identifies vital resources so children and families can begin to heal. Since opening, the CAC has served more than 2,700 children and the need for services continues to grow.
"As our agency turns 23-years-old it has been fun to reflect upon the almost 11 years the Child Advocacy Center has been serving child victims of abuse. Many of the same people who were at our first open house and have consistently supported us over the years were in attendance (at our event this week)," said Kathleen Holbrook, Director of the CAC. "We talked about the growth in program staff … we reflected on the countless lives we have touched. The community support we had (in the beginning) and continue to receive is heartwarming and reassuring. I am so proud to have been a part of the Child Advocacy Center since its inception. This service is such a blessing for Onslow County children, families, and professionals. I look forward to what will come in the next few years as we continue to grow and expand with mental health and medical services."
The organization was renamed One Place this year, representing the "one place" families can go to connect with resources that will help them succeed.  One Place takes pride in the ability to leverage community relationships and identify emerging needs and develop and implement collaborative solutions to address them.
"We are so excited to celebrate our 23rd birthday with everyone," said Dawn Rochelle, Chief Executive Officer. "When I look back over the two decades of work, I am deeply grateful for our founders that had the vision to create our organization. I remain deeply appreciative to our Board, our donors, our funders, our community partners, and our staff."
And while much work has been done during the past 23 years, the organization isn't stopping anytime soon.
"We continue to be called to connect children and families to what they need, especially in the early years. We are a resilient community because we weather difficult times together," Rochelle said. "There is much work to do. We invite you to be a part of our journey to help us end child abuse, increase access to child mental health, and continue providing the best resources for children and families because our children are no small matter."
For information on how you can support the work of one place visit https://www.oneplaceonslow.org/get-involved/