Planting Roots
for the Future
Imagining a stronger, safer, healthier community for children and families
An Unwavering Commitment to Our Mission
For more than 25 years, One Place has made a measurable impact on the lives of children and families in Onslow County. From supporting children who have suffered abuse or neglect to providing families with high-quality child care options, our mission has remained unchanged: To create hope and offer healing for the children and families we serve and positively change the future of our community.
One Place is now at an exciting juncture. As the population in Onslow County continues to grow, so do the needs of families. To fully serve our community and continue to build on our vision of a caring, responsive, and supported Onslow County, we need a permanent home to ensure families and children can access the services and support they need.
The stakes are high-children and families in Onslow County face a number of challenges. With a new permanent home, One Place will have a profound impact on the future of our community and prepare the next generation for a healthier, more vibrant tomorrow.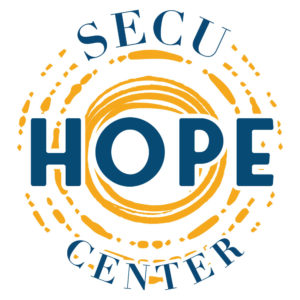 To discuss gift or naming opportunities,
please contact Ann Marie Raymond, Chief Advancement Officer at Annmarie.raymond@oneplaceonslow.org.
Our New Home
Our new home will be a one and a half story space in the Jacksonville Commons.
It will be a holistic community hub to include learning space for the early care and education community and community partners, therapeutic respite space for child abuse victims and their families, and a disaster response space.
our plan
Harnessing Our Legacy
and Envisioning a Brighter Tomorrow
In November 2021, One Place was awarded $8 million in the North Carolina state budget for the creation of a new multipurpose facility. In September 2022, The SECU Foundation awarded One Place a $2 million challenge grant to support the project. Part of this grant included naming rights for the building which has been designated as The SECU Hope Center.
what will it take?
$1.5 Million: To Build a Stronger Future for Onslow County
Your support will help us make our new home a reality- and ensure a better future for all children and families who call Onslow County home.
Timeline
2022: Capital Campaign Launch
2023: Breaking Ground
2025: SECU Hope Center opens to the community
campaign donors
State of North Carolina
State Employees Credit Union
City of Jacksonville, NC
Anonymous 
Adam Locklear & Christi Hill
Anonymous Trust
Billy & Julee Sewell (Golden Corral)
Brian & Natalie Kelly
Charles & James Sewell
Daisy Haywood
Deanna Trebil
Dyon Foundation
Efird Family (Modern Exterminating)
Filanthropie Consultancy
Henry & Dawn Rochelle
James & Kathy Askins
Jeb & Shawn Brown
Jon & Christina Wright
Julia Collins
Major General Robert Dickerson, USMC Retired & Karin Dickerson
Mark & Kathryn Wessell
Mary Cheatham King
Mary Hendrickson
Mat & Ann Marie Raymond
Michael Brown
Michael Grippo
Mike & Fay Yaniero
Mil-Fed Trucking, Inc.
Neverland & Main Travel
Raiford Trask
Raymond Family (Sanders Ford)
Rev. Joel & Felicia Churchwell
Scott & Ashley Smith
Senatra Spearmon
Staci Davis
project team
Advancement Experts
Anchor Consulting
BB+M Architecture
Dan Gerlach LLC
Filanthropie Consultancy
McKinley Building Corporation
Old North Strategies
One Place Board & Staff
Playbook Management
Summit Design
it's time to invest
in the future of Onslow County.
Your support makes a meaningful difference in the lives of children and families in our community.
Build With Us
To discuss a gift or naming opportunities, please contact Ann Marie Raymond, Chief of Advancement at annmarie.raymond@oneplaceonslow.org.