Child Advocacy Center
The One Place Child Advocacy Center (CAC) is a child-focused facility providing hope and healing to children from birth to age 17 who have experienced physical abuse, sexual abuse, serious neglect, and/or violence. 
Our Approach 
The Child Advocacy Center model provides a powerful child-focused environment where law enforcement, child protective services, prosecution, and medical and mental health professionals can work together and develop a coordinated strategy to support a child in need. Our approach is based on a nationwide model of child advocacy centers and we are accredited by the National Children's Alliance. 
How We Help
Our multidisciplinary team of professionals responds to reports of physical abuse, sexual abuse, serious neglect, or violence. We investigate alleged abuse, conduct forensic interviews, provide sensitive medical exams, offer family advocacy, and identify vital resources so children and families can begin to heal and build resilience.  
At a Child Advocacy Center, a child tells their story only once to a trained interviewer, preventing any retraumatization from occurring, and providing them with a safe place to heal. Forensic medical exams are completed by medical providers rostered as trained child abuse experts through the Child Medical Evaluation Program at UNC-Chapel Hill Department of Pediatrics. Our Child Advocacy Center employs the only two rostered providers in Onslow County.  All of our services are offered in a safe, sensitive, and child-centered environment. 
We also offer resources and referrals to evidence-based mental health services to help reduce trauma and improve the lives of children and their families in Onslow County.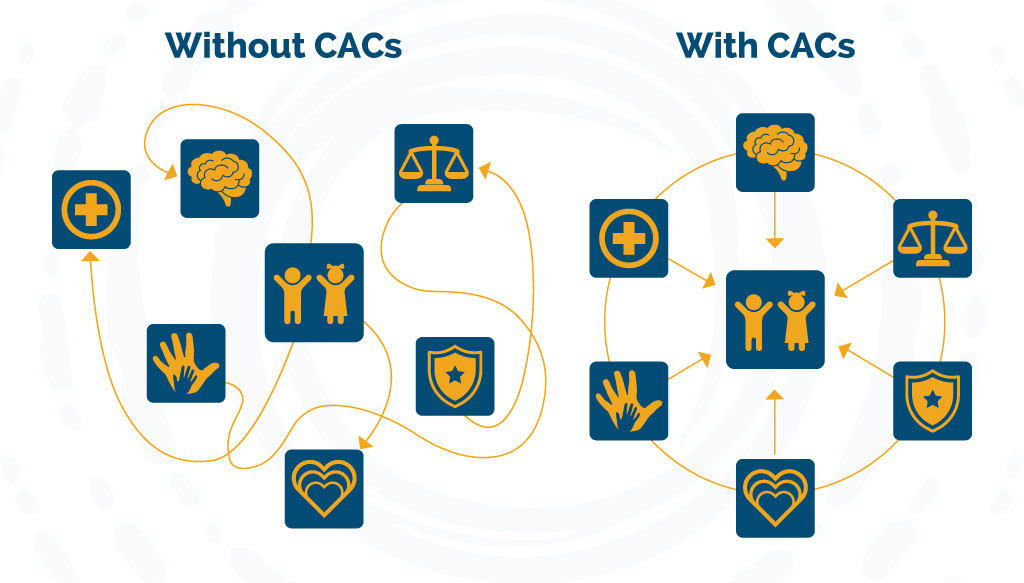 OUR
impact
Since the opening of our Child Advocacy Center, we have supported more than 3,000 cases of child abuse and neglect in our community. 
Children supported since 2010
Children evaluated by the CAC in fiscal year 2021
Cost per case of child abuse & neglect
Community
stakeholders
Supporting the children and families of Onslow County would not be possible without the collaboration of a multidisciplinary team of CAC members and agencies.
Let's Talk, Elbert Owens, LPC
Serenity Behavioral Therapies, PLLC
Onslow County Health Department
Medical providers
Mental health providers
CAC
testimonials
Hear from families we've helped.
"I was a bit nervous before the appointment. The staff made us feel very comfortable and put our minds at ease."

"Staff goes above and beyond to make you feel safe and comfortable. Thanks."

"The staff made sure to let my daughter know she could say 'no' , that she had the right to say no. That made her feel like she had control and that she was safe."

"They give my children the right to dictate what happens with their own bodies."

"I want to say thank you to the Child Advocacy Center and all the people that work there and do an amazing job. When I went there to take my interview, I was anxious and I was not feeling good telling my story, but everything change as soon as I walked there, everything change everyone there is really sweet, amazing and super happy they make me feel super comfortable, good, brave, and ready to tell what happened and be honest. All the people that helped me there are amazing they do an incredible job with me and all the children that they must help. Child Advocacy center is important, it made a huge change on me and it helped me a lot in my life. It is important to for this center to be always present in this type of crimes because the job that this people do is important."
Recognize and Report
Abuse
In the state of North Carolina, anyone who suspects a child has been abused or neglected is mandated to report it to Child Protective Services. 
If you suspect a child has been abused or neglected, call Onslow County Department of Social Services (DSS) Child Protective Services Intake at (910) 219-1955 Monday through Friday from 8:00am to 5:00pm. An after-hours duty worker can be accessed through Onslow County Sheriff's Office of Communications at (910) 455-9119. DSS investigates parents, legal guardians, and adults living in the same home, and child care center personnel upon request from the NC Division of Development and Early Education (DCDEE). Be prepared to share demographic information about the child and family members. A first-hand account of what has occurred is best, as well as details and quotes.
Have you ever wanted to know how to recognize child abuse and neglect? Check out this self-guided online training from Prevent Child Abuse North Carolina: Recognizing and Responding to Suspicions of Child Maltreatment Training
together
we can end child abuse in Onslow County
It costs $3,326.38 for the case management of one abused or neglected child in Onslow County. Your support helps children and families access the resources they need to heal and thrive.