This is part of an ongoing series of profiles on community members and organizations that partner with One Place and our Child Advocacy Center to fight child abuse in the community. This entry focuses on business, particularly small businesses.
The importance of the link between programs that support the well-being of children and the interests of small business is not lost on either side of the issue in Onslow County.
One Place and other agencies that serve families and children have developed a strong partnership over many years of working with individual business owners and organizations such as the Small Business Center at Coastal Carolina Community College and the Jacksonville Onslow Chamber of Commerce.
In Onslow County, where the military dominates the local economy, small businesses provide the backbone for the civilian sector. Chamber President Laurette Leagon said small businesses, defined locally as those having less than 50 employees, comprise 80 percent of the organization's membership.
Those small businesses not only provide employment to thousands of local residents, they also provide financial and volunteer support for civic organizations such as the Chamber and non-profit agencies such as One Place. A glance at One Place's donor list or the sponsor list for signature fundraising events such as Diamonds and Denim shows the generosity and importance of that business sector.
"They not only invest their money, but they invest their time," Leagon said. "As a chamber, we constantly are trying to get out that message: Do business with the local owners, because they are the ones that will support One Place, buy the jerseys, support the band, support the cheerleading squads—I could go on and on."
As director of economic development at Coastal Carolina for the past 35 years, Anne Shaw has collaborated with workplaces and employers throughout the county in her work with the Small Business Center. Since 2017, she also has led the State Business Center Network for North Carolina's community college system.
Shaw has witnessed the impact that workplace disruptions can have small businesses. And she recognizes that child abuse and other forms of domestic violence are an often-overlooked threat to operations.
Most small businesses are not in a position—in terms of either financial resources or management training—to deal with such problems. "They can't afford it," she said. "They are less than a month away from not having enough resources. The pandemic has shined a light on that."
While not losing focus on the human toll, Shaw understands that her position requires her to assess the negative economic impacts on business. "When I think about the small business, I certainly think about the people involved, but I also must consider the viability of that small business and its ability to survive the disruption."
The disruptions of abusive situations of all kinds take many forms. Lost productivity and time can lead to business failures. The entire workforce of a small business–sometimes no more than a handful of people—can feel the wear and tear of such a situation. "It could start to impact mental health," Shaw said. "It could start to impact physical health."
Leagon said the strain of domestic violence on small businesses can be intense. "Think about it: You have three employees working for you. One is on vacation that week, and another has a domestic situation at home. Who is going to step up? Is it fair to that one employee who is basically left holding the bag through no fault of their own?"
"We're concerned about the one who is living through that situation, which is horrible, but then you have that ripple effect," Leagon said. "Whether the abuse involves the spouse themselves or the children, you are not going to get good productivity out of that employee because they are worried about something that potentially could be life-threatening. The older employees may try to help, so now you've got two who are not working at full speed."
The effects of any publicity that may result can magnify the situation. "There's all that negative connotation that comes with that," Shaw said. "The reputation fallout could cost you customers. It could cost you everything."
In a worst-case scenario, the abuser could show up at the workplace and cause problems there. "It is endless the number of places where the tentacles could reach," she said. "If there is something that is disrupting the lives of one of your people—the loss hours; the loss of focus—you are just not hitting on all cylinders…. It is disruption, constant disruption, which has economic costs."
Employers and employees alike usually lack the training to deal with a workplace situation that involves domestic abuse. "In larger organizations, the focus has been on sexual harassment to keep the workplace how it needs to be," Shaw said.
Shaw believes coping with problems related to the many forms of abuse could lead to a new level of professional development. "We don't always know what to do, and we don't know how to do it. We need lots more education."
Leagon said the chamber has partnered with One Place staff to provide presentations to employers on accommodating family needs in the workplace, including child care. The chamber president said many businesses have re-examined the needs of families in light of COVID-19.
When there is a problem related to physical abuse, including situations at home and outside the business, the situation can get more complicated, especially if there are children involved. "Adults in a marriage have a choice in bringing charges," Shaw said. "But with a child, we have an obligation to protect someone who doesn't have a voice for themselves."
Our Impact
One Place offers community education services around Adverse Childhood Experiences (ACEs), the 5 Protective Factors, and resilience within its Prevention Services Department.  Earlier this year One Place launched its Creating Responsive Communities (CRC) platform.  CRC provides participants with a definition of a responsive community while increasing knowledge around the 5 Protective Factors. Participants explore reasons why responsive communities are essential to support the healthy development of children – a foundation for a strong community.
"Our focus is to reduce trauma and its impacts as well as to reduce instances of child abuse and neglect," said Joe Coffey, Director of Prevention Services at One Place.  "Given the data and statistics around ACEs as well as child abuse and neglect in our community, it can be overwhelming to consider what part individuals can play in taking action."
Want to help? Here are four steps you can take to help build a responsive community:
Step 1:  Be The One!
It only takes one consistent, safe, stable adult to positively impact the life of a child.  You can be that one person!  Your relationships, attachments, interactions and connections matter.  Spend time considering how you interact with children and families and ways that you can connect them with the resources they might need.
Step 2:  Change Perspectives
This step can be a little harder, as it takes some self-reflection.  It's about making changes in our own thinking.  Try using a strengths-based perspective.  All families have strengths and using a strengths-based perspective can help you show empathy and celebrate what is going well within a family while also finding ways to help support in areas where needed.
Research shows that 25% of people living in Onslow County have an ACE score of four or higher.  This means they have endured significant childhood trauma.  When you see a family or individual struggling, rather than wondering or asking 'What's wrong with you?' focus on 'What happened to you?'  Changing this question can help change your perspectives and operate in a strengths-based way.
Step 3:  Help to Build the 5 Protective Factors
Developed by the National Alliance of Children's Trust & Prevention Funds, The Strengthening Families Protective Factors Framework is an international initiative aimed to develop and enhance five specific characteristics (called protective factors) that help keep families strong and children safe from abuse and neglect. When these 5 Protective Factors are in place, families have a better chance for positive outcomes and children are protected against risk factors.  Learn more about the 5 Protective Factors here.
Step 4:  Self-Care
Last but ABSOLUTELY NOT LEAST, is self-care.  Self-care helps you to be at your best so you can be that one consistent, safe, stable adult for a child! Often those who are drawn into "helping" professions have experienced toxic stress or trauma in their own lives.  Discuss the importance of "putting on your oxygen mask before helping those around you" and create a self-care plan.
For more information on the One Place Child Advocacy Center and our work in child abuse prevention and intervention visit www.oneplaceonslow.org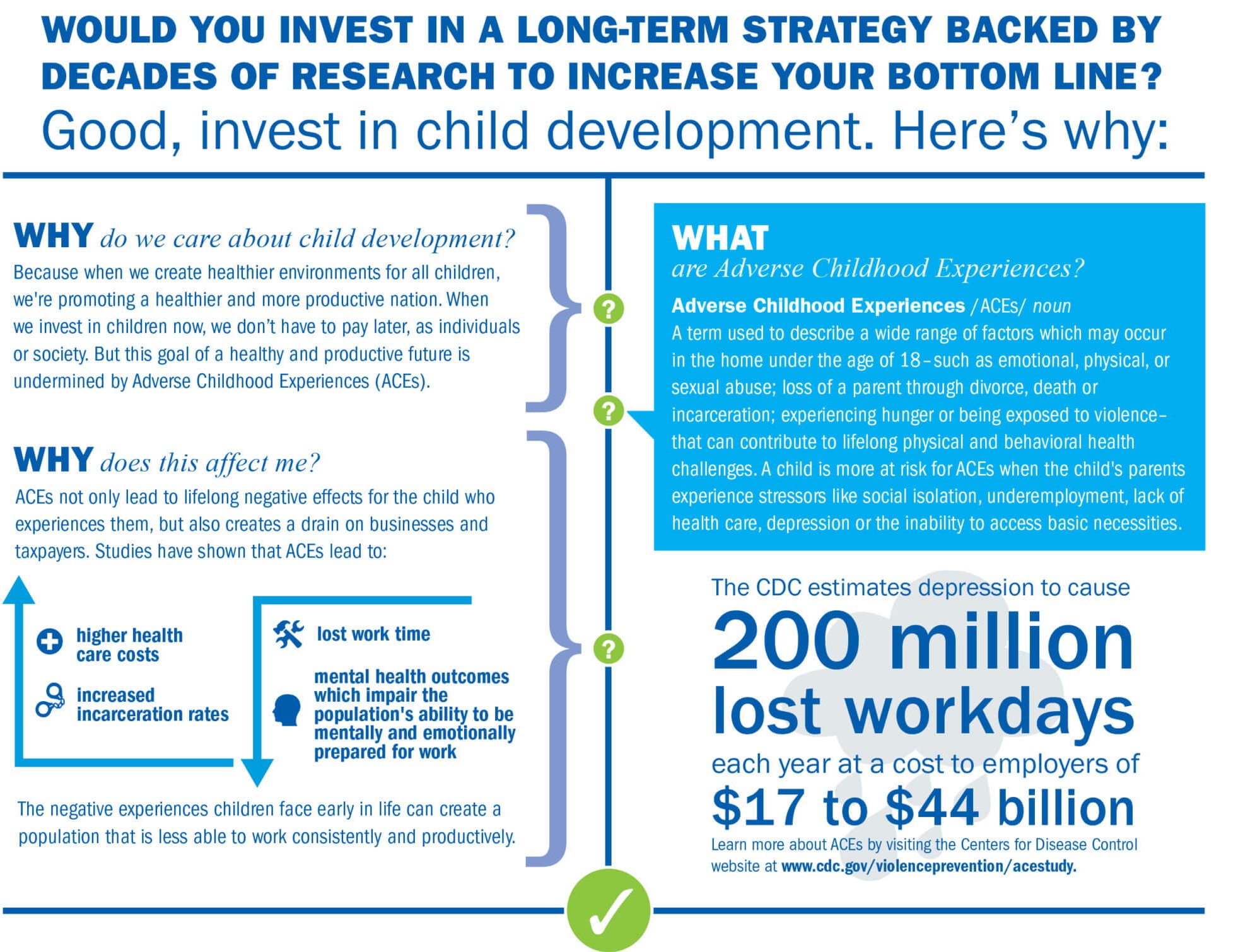 Graphic courtesy of Prevent Child Abuse America