BY ELLIOTT POTTER
The name of the event is Diamonds and Denim, featuring a traditional blend of festive sparkle and casual style, but the 2021 version sure felt like a spiritual homecoming.
When several hundred people converged on the Rustic Barn event center in support and celebration of One Place on the evening of Saturday, Sept. 11, the atmosphere was one of renewal of past commitments and hope for the future. There sure enough was plenty of fashion on display, but nothing shone as brightly as the smiles on people's faces; nothing was as impressive as the dedication to the well-being of children.
The attendees, most of whom lived in or had strong connections to Onslow County, were there to do what the local population always has done well: support a great cause; and, when appropriate, have fun doing it.
I have attended many events of this kind since arriving to work at the Jacksonville Daily News in 1979; like many long-timers, I can tell you exactly when this unity of purpose seemed to fully emerge. That happened 38 years ago this month—in October 1983 in the aftermath of a terrorist bombing of the barracks for a U.S. peacekeeping force in Beirut, Lebanon.
The explosion killed more than 240 servicemembers, the vast majority of whom had ties to local Marine bases. It was devastating to the lives of family members and their neighbors, but what started as an overwhelming tragedy eventually became a rallying point for a community that discovered its identity and embraced the spirit of taking care of its own.
Since that time, this area has established a well-earned reputation as the home of people who protect their neighbors with a shared strength and give to each other from their hearts. The transformation was evident on both sides of the gate, among military and civilians.
One of the groups that has benefited most has been children, because more than ever, we realized that our love of children is a fundamental tie that binds. Onslow County and Jacksonville, once infamous for a bawdy downtown and saddled with a roughneck reputation, became better known for youth soccer, festivals, and an award-winning National Night Out. We embraced family life and showed a special understanding of the needs of military families. We became an All-America City.
One Place was established as the Onslow County Partnership for Children in 1998 for the purpose of strengthening the systems of care for children and their families. Since its founding and the establishment of its Child Advocacy Center, the non-profit agency has continued to expand its mission of protecting and supporting children in multiple ways, culminating in the rebranding as One Place.
This was the 11th year for Diamonds and Denim, but it was the first under the One Place umbrella. Clearly, there was a different atmosphere surrounding this version of the organization's signature event.
Not the least of the differences was a palpable spirit of revival following three earlier cancellations of D&D due to a hurricane and a lingering pandemic. The organizers made the tough decision to move ahead despite the challenges presented by COVID-19, but no number of precautions—and there were numerous taken—could fully erase the concerns of those who had spent months in a defensive posture due to the virus. Yet the record-breaking turnout for the evening and sense of shared relief in the days following the event pointed to the right call being made.
Transcending the shared health concerns was a feeling that One Place and our community have reached a turning point in continuing to provide services to families. In my recent work as a consultant for workplace, I have sensed an urgency among the staff at One Place. The professionals in the multi-disciplinary units recognize that needs in child care, development, protective services and criminal justice are greater than ever. The response to certain specific needs—such as making mental-health services for children more available, particularly to victims of abuse—up to now has been inadequate.
I can tell you from personal experience and observation that the staff and volunteer leaders at One Place have pulled together a formidable legion of community and legislative supporters to address those concerns.
I attended Diamonds and Denim wearing several hats to go with my jeans and diamond-patterned shirt. I came as a sponsor, as a communications consultant, and as one of those people who simply enjoy good food, good friends, and good music. By the time it was all over, I was more convinced than ever that our children are in good hands.
I also left with a greater realization of the commitment that is required. As the folks at One Place often remind us and each other, the well-being of our children is No Small Matter. Diamonds and Denim was a really fun way to start; now we have to keep going.
Click here to support the work of One Place and child abuse prevention and intervention efforts in Onslow County.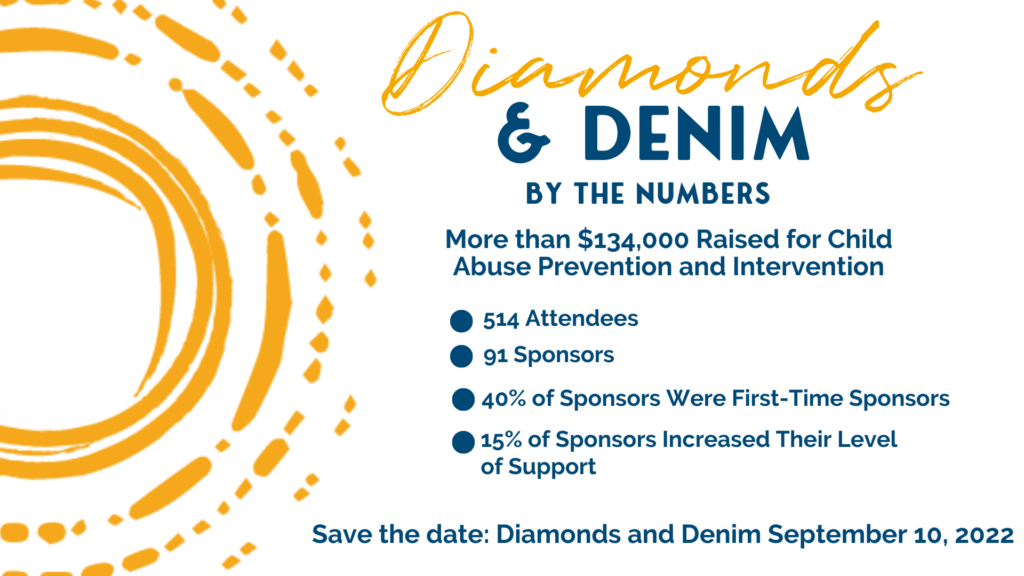 To reserve your sponsorship for Diamonds and Denim 2022 contact Ann Marie Raymond at annmarie.raymond@oneplaceonslow.org.










Click here for more photos from Diamonds and Denim 2021.